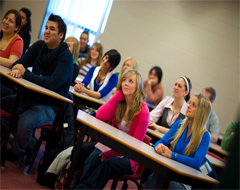 Want to pack your bags and take an educational trip to remember? Cape Breton University has an active student exchange program through partnerships with universities from around the world.
What is a Student Exchange?
•As part of the CBU Exchange Program, you will have the opportunity to study in another country for one semester or one year.
•You will earn credits toward your degree (you will require approval from the academic school in which you are studying).
•You'll pay your tuition and related fees to CBU.
Why do an exchange?
•You will develop independence and life skills that you could not otherwise learn on campus.
•By meeting new people and visiting new places, you'll see the world from many new perspectives.
•You will learn about other cultures and ways of life, and the inter-relationship between cultural values and behaviours.
•You will develop a greater sense of yourself as a Canadian and of the distinct features of Canada as a country.
•It will set you apart from other job seekers in a competitive market.
•Successfully completed course credits will be transferred back to your home campus.
The Exchange Process
•You must have completed one year of full-time study at CBU and maintained a 70% average.
•Contact the International Student Exchange Coordinator at least six to twelve months before you would like to go on an exchange.
•Choose the university you wish to attend and review English-language course offerings.
•Consult course offerings with your department Chair and get final approval from your Dean.
•Submit CBU's Student Exchange Application.
•Contact your host university.
•Apply for any necessary immigration documents, such as visas or permits.
•Register for your courses at Cape Breton University.
•Pay your fees at CBU.
•Ensure you have adequate health insurance coverage.