" In Canada, affluence comes only with persistence and hard-working, the possibility of being wealthy is to take step by step, and the most important thing is, you have to stick to everything you are doing."
-SUBWAY Sydney area manager, Qi Yuan
Qi Yuan, who came to Cape Breton on 2008, is the general manager of SUBWAY Sydney area. During the interview of him, he was always speaking in a calm voice when telling us his experience in Cape Breton and in Canada: It seems that there was nothing, or not a single occupation that Qi Yuan had never tried. In his career life, he had been working as cashier, supermarket supplier, truck-moving man and cook, he even finished his MBA courses in Cape Breton University in just one year, which other people usually take 16 months to do so; After his stunning work as a student, Qi Yuan carved out his own business venture, then he went to Toronto with great success and devoted into another career field. However, Qi Yuan was finally feeling tired of the busy life in big city, he refused the job offer of being an assistant of President from University of Waterloo and went back to Cape Breton island. This time, Qi Yuan's return created another impressive achievement of himself as a foreigner: he was raised from an ordinary SUBWAY employee to a team leader within a short time of three months and promoted to a branch manager in six months. A year later, Qi Yuan finally made it to the general manager of SUBWAY Sydney area. Qi Yuan's career accomplishment is such a miracle to many of us when we heard about his story, with such great curiosity, we asked Qi Yuan of how did he push himself to achieve this, especially because of his foreign background, are there any difficulties or problems when working as a general manager in such a white cultural environment? He smiled and said: " Being a Chinese, we do share very different culture values and lifestyles with local Canadians, however as long as you fully understand that there are differences exist and get to know every one of your employees while letting them know you as well, there is not much problem to work around. In addition to that, all my efforts and hard-working are so obvious that every could easily tell: I work up to 16 hours a day and I will go to at least 2 branches per day to deal with various business issues. I'll be in every nine branches store personally every week and check with kinds of reports from supply chain to seasonal or annual summaries and even the employee award points system. Some people like to judge me because they don't understand why did I chose a job of making sandwiches when I have a MBA degree, well I honestly don't care what they talk about me and how they comment about me, I only know that I hate sitting in the bank and counting money all day long. (laughter) "
As most of Chinese students do, Qi Yuan had language school experience as well. He said: " I believe that the presence of language school (ICEAP NS) is in great necessity with positive influence. For many Chinese students who had just arrived here, they do need an intermediary to help them cope with whole new environment and act as a grace period. To study and live in a whole new, or we may say, a totally strange environment is not an easy thing as our previous imagination, being in here, you will learn not only how to use another language but also learn to adapt to local culture. By attending the language school, you will learn all these things subtly and it can help you a lot in the future lives."
When we were talking about a lot of students choose to stay in big modern cities just like Toronto while Qi Yuan chose to return to the place where he went to graduate school, he added " For me, big cities are fun places for spending leisure time and shopping, but it is true that not every one could adjust themselves to its fast-pace lifestyles. The reason why I chose to come back to a small town like Sydney, is because it has its uniqueness that really attracts me. Take Cape Breton as an instance, surely it is a small island with not much modern stuff, but in another way, I see it as a place full of business chances and market demand with less intensive competition. The only difficulty is that it is not always easy to capture the best business timing or to dig out the potential market. However, as long as you persist in doing the things you believe, you will always be successful."
The success of Qi Yuan did not come from luck, it was his effort with great persistence that made him a miracle. Since he was so busy that we could only get to know parts of his work and personal life, but his energetic personality has always been staying in my mind, I think he is the kind of person that shines everyone around. Through Qi Yuan's success and achievement, we believe that the possibilities of goodness for Chinese students will never end.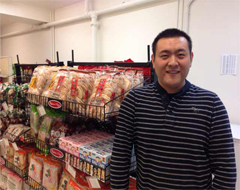 Graduate entrepreneur Yuan Qi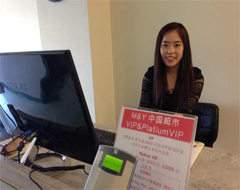 Business entrepreneur Yu Miao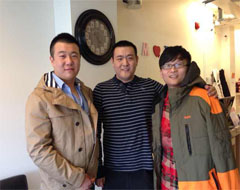 An interview with a Chinese
business man Yuan Qi
by Nate and Jack