On July 7, 2014, Jane Connell, Assistant Professor of Community Studies at CBU, along with staff members, Brett Maclean and Cynthia Vokey, delivered a workshop series regarding the Bachelor of Arts Community Studies Degree to ICEAP NS's Level 6 students.
Dr. Connell started with a presentation about how the BACS degree program aligns with community and how to build a career with a BACS education. The students were excited to learn that the course includes 320 hours of field work, which takes place in the second and third year of study (160 hours per year). Work placement is chosen according to the graduation plan or career interest of the student. Some students may have the opportunity to finish their work placement in the healthcare field. Work placements may lead to employment after graduation.
This three or four year degree can lead to a career in social work, policing, education, public service, sports, recreation and health promotion. CBU students can take their BACS education into the global marketplace. BACS graduates build careers around the world in law, corrections, child care, youth centres, tourism, public relations, journalism, community development and many other rewarding fields.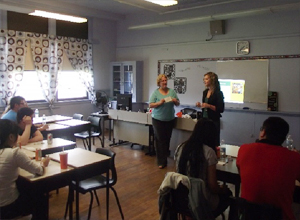 Jane Connell works with ICEAP NS students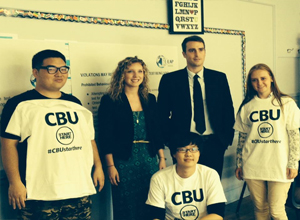 Anastasiia, Ye Yulin, and Qin Cong