The first of July is the National Day of Canada. The way Canadians celebrate their national festival is just like the attitude that they have as being-down to earth, not many rules, and as long as everyone is happy that's enough. Every province, every city, no matter large or small, have their own celebration. Prince Edward Island puts on a grand fireworks display for a whole night. The City of Ottawa has a marching drum band, while in Quebec; national day is always a moving day. In the Cape Breton region, all the public parks are free on Canada Day and are opened to everyone for celebration. As always, the Regional Municipality will sponsor activities on this particular day such as free cakes and face paintings for the public. Also, there are performances for visitors in those parks.
The International Center for EAP was invited to show its various unique cultural features along with its homestay program at the largest exhibition center in Sydney. By the sparking seashore, in a big tent, staff and volunteers from ICEAP NS presented gifts to the locals while cheering for the national day together. The booth of the ICEAP NS was in the tent of the Canadian Immigration office (CIC). While chatting with each other, our volunteers had the chance to get to gain a lot of information about immigration and applications for visas. Till the end of that day, the air was filled with relaxation and celebration.
Canada is a multi-cultural, multi-ethnic country. The International EAP center as a language school, in a sense, is an important connection between the local culture and international students. Though it was a hard working day at the exhibition, the volunteers were still very happy to be there as they captured the whole day working and communicating with local people using their English skills. International Center for EAP will be happy to see and hopes that every international student would have the chance to experience the event as well, and we will continue making efforts to make it happen every Canada Day.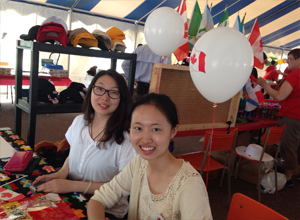 Chu Ran and Shan Aiqun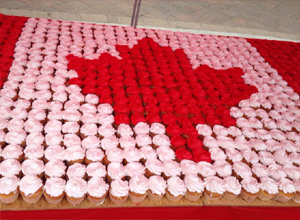 makes up the cakes into flag