The well-known international event TED talk landed in Cape Breton! Have no idea about what a TED talk is? TED is the abbreviation of Technology, Entertainment and Design. It is also the name of a famous non-profit organization. TED is a platform for ideas worth spreading. Started in 1984 as a conference where technology, entertainment and design converged, TED today shares ideas from a broad spectrum — from science to business to global issues — in more than 100 languages. Meanwhile, independent TEDx events help share ideas in communities around the world. It is not only a single speech, but also is the crystallization of human wisdom, the best place to be inspired and have your mind-changed. TEDx was created in the spirit of TED's mission, "ideas worth spreading." It supports independent organizers who want to create a TED-like event in their own community. Basically, come from the community and take back to the community is the main purpose of this event.
On July 11th, 2014, TEDxCapeBreton came to Cape Breton University which is the center of education in the CBRM. Several speakers and hundreds of participants in various fields were brought together to share their ideas. International center of EAP, as one of the most important parts of Cape Breton University, was invited to participate in this conference. As well there were 9 students from bridge course and MBA preparation who had the honor to be there.
Climate, culture, dreams, changes and identity—these topics brought deep impression which is impossible to describe with words. Students were taking notes while listening to record this rare opportunity.
"This is an incredible opportunity, I really don't expected I can participate a TED talk here," a participating student told the school after event, "this is a valuable opportunity which cannot be purchased even you if you have money."
ICEAP NS will do everything possible to provide such opportunities for the students, and we are confident that students can be able to fully participate.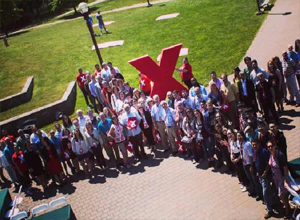 TEDx CapeBreton Talk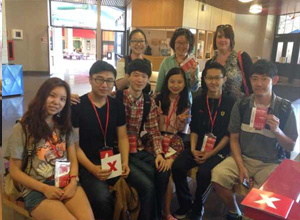 International EAP Center Delegation