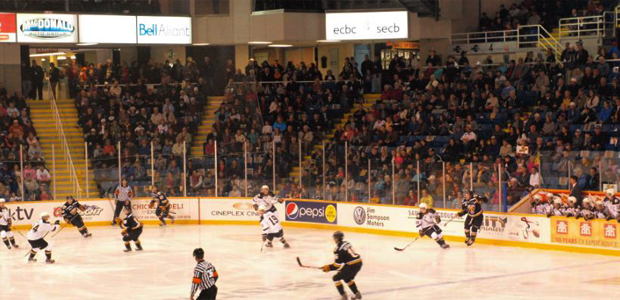 There is always a saying—if you never seen a hockey game on the land of Canada, then never tell others that you've been to Canada before.
In Canada, hockey is so important both as a unique sport game, but also acting a crucial part of Canadian culture--Canadians express their enthusiasm through the hockey game. Regardless if they are crazy sport fans or calm self-possessed people, whenever there is hockey game hitting in the town, the passion of Canadians always "burn" the iced hockey filed.
In order to better understand the local culture and help new students to blend in, the student service department of International Center for EAP had specially organized an outing activity to the hockey field and got the half-price tickets for those students. Right before the first of new season, student service department took these new students to the C200 center in Sydney for the hockey night to watch our Cape Breton Screaming Eagle against Charlottetown team.
Even though the competition outcome was not as good as expected before, people are still feeling excited and enjoyed, this actually reveals the life theory of most of Canadians—focusing and enjoying the process of everything, but not the ending. We hope all of our students could take part in similar activities of their living communities during their school years and experience the real Canadian culture.