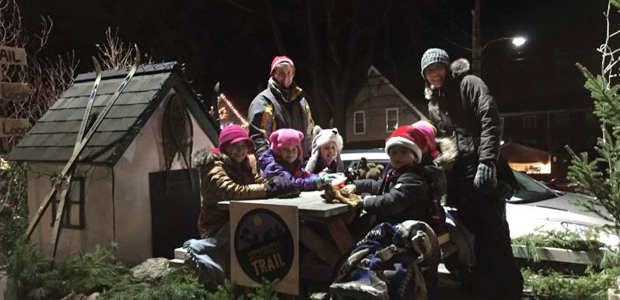 It is late November again in a blink of an eye and it is the time for the Santa Claus's arrival in Sydney Nova Scotia as well. On the 29th of November, the annual event "Christmas Parade" was held in downtown Sydney. Although the wind was whistling in the winter evening, the coldness could not stop the enthusiasm of capers at all. There were people in all ages, standing, or we should say crowding on both sides of the street. It seemed people all bring out their whole family members for this annual excitement.
In a continuation of the Santa Claus arrival traditions, every float has its own theme, some are like moving ice statues, some are decorated as woods on the trucks. And of course, the cutest thing in the Christmas Parade every year is that there are horses pulling fairy-tale-like shape of carriage walking on the streets and it attracted all the attention from people. Canadians always have special affection of animals.
The International Center for EAP has its theme this year of the Canadian folk. Most participated international students were having their first time to experience and join the Christmas parade of Cape Breton, with seeing all the streets light up and the enthusiastic local people, they were all beyond excited.
The annual Christmas parade in Sydney is not only an expectation from local capers but also an important new student orientation activity of International Center for EAP. Such events can enable the international students to enjoy the joy of the participation while giving them unique opportunities for blending into the local culture.